In this section read about some of the projects i have undertaken WITH GROUPS, exploring issues related to sustainability
COGS
I was commissioned to deliver a project with all nine post-primary schools in the Ballymena area. The artwork is composed of nine individual elements (one allotted to each school), and each visually depicts an aspect of Sustainability: 1) Protection of Natural Habitats, 2) Recycle – Minimising Waste and Pollution, 3) The Fragile Relationship between Humans & Animals, 4) Health Education, 5) Food for all, 6) Freedom & Political Representation, 7) Shelter, 8) Better Quality of Life for All, 9) Use of New Energy Sources. Each of the nine elements is based on the form of a wheel clog, with one appearing to connect to the other. This is to highlight the connectivity between each element and how they 'work' together in unison. Each cog is constructed using a variety of materials; the work made in the school workshops forms the centre of the clog to narrate a pictorial representation of the above themes.
Materials used include: clay – mixed with paper and natural materials, wire, drinks cans, plastic bottles, packaging, glass jars, reclaimed wood, glass and found objects, cardboard and paper pulped made into new forms, plastic bags, old clothes, bicycle wheels and engine parts.
'GREEN PAGES' ENVIRONMENTAL AWARENESS PROJECT
I managed and facilitated a programme of workshops with over thirty primary schools to create a series of large scale visual collages and sculptures which highlighted key issues regarding the environment. The project was sponsored by Yellow Pages and Marks & Spencer. All the artworks were created using found materials, with the final works exhibited at the ECOS Centre, Ballymena.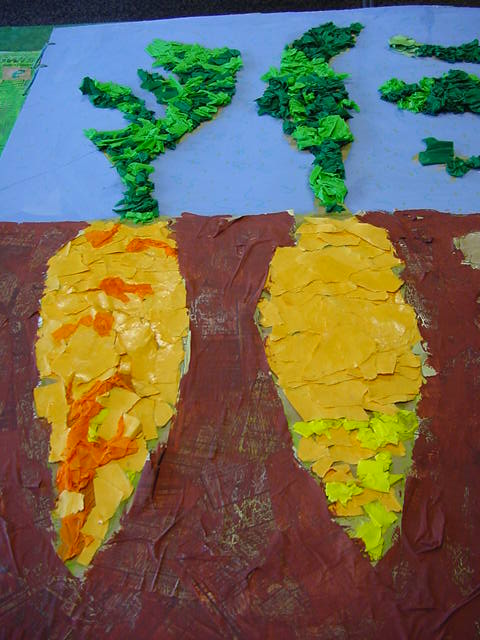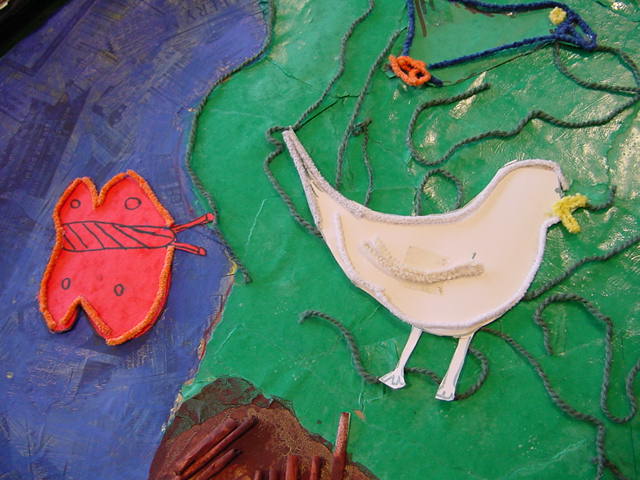 LEARNING MAP OF NORTHERN IRELAND
I was commissioned by The Athene Trust to work with a primary school to create a large scale ceramic mural to be sited in the school grounds. This large scale map of Northern Ireland featured local landmarks and places and was created with the older pupils in the school, with the aim of being used by younger children as a learning aid.
A TOUCHING EXPERIENCE
I worked with a group of adults who are blind or visually impaired to create a large scale ceramic mural depicting the four seasons. This highly textural work was limited in its colour palette and was entitled by the group 'a touching experience'. The final mural was exhibited in the Ulster Museum, Belfast